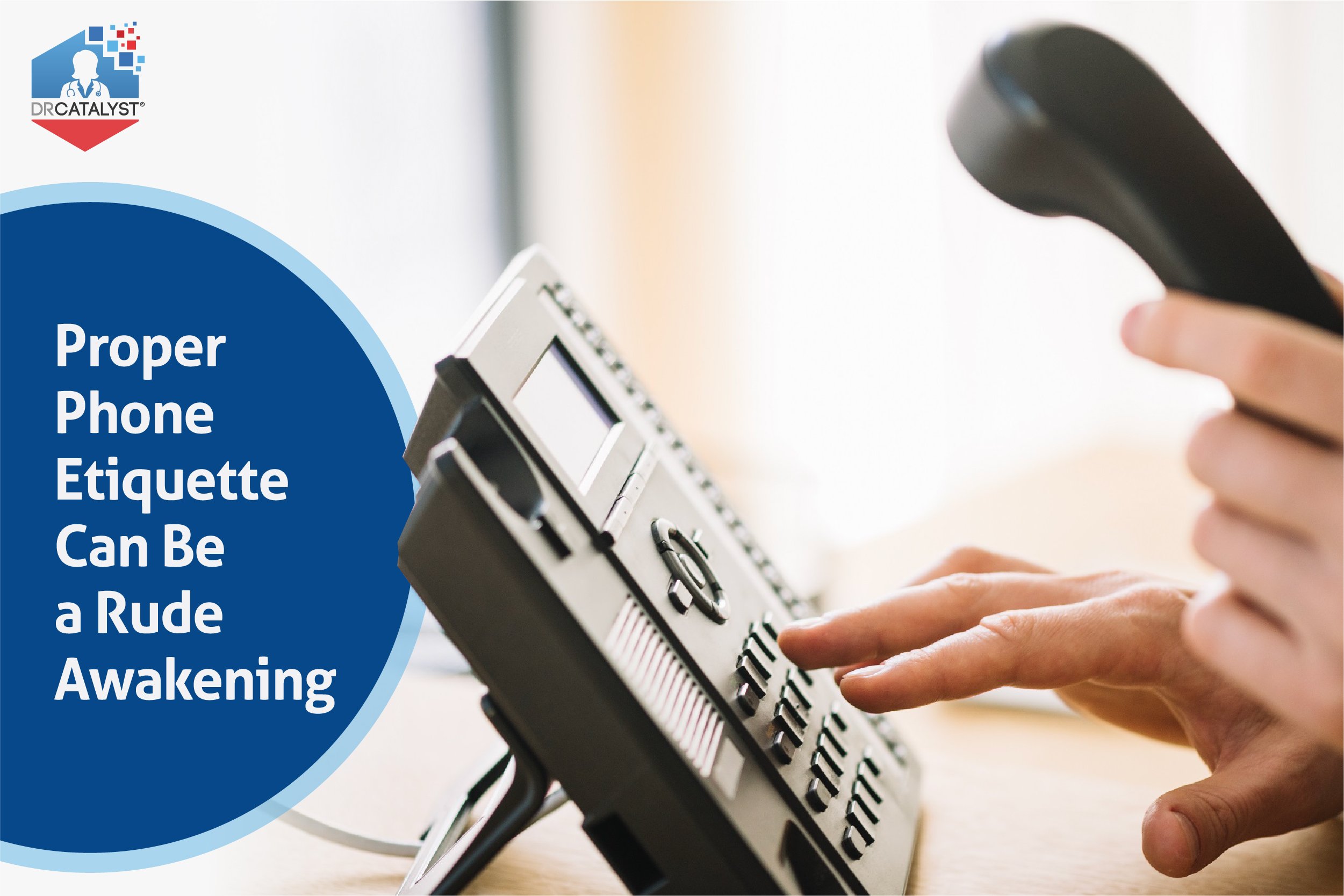 The Problem
The dreaded horrible phone call experience.
It happens to all of us. We call a business and hope to get something done. Instead, the result is annoying, frustrating, and a time sap. Let's face it. Sometimes you just want to throw your phone against the wall.
For doctors, the phone experience for patients is even more critical. A phone call is usually the first contact with your medical practice. It is also one way for your existing patients to ask questions or convey essential information. On a busy day, your telephone may not stop ringing. That means a drain on staff time and energy. But answering calls is also one of the easiest things to get right in order to maintain a calm and professional relationship with your patients.
Our staff's behavior can positively or negatively impact your practice when patients call the physician's office. As you know, patients expect a lot. Here are a few tips:
Answer quickly when the phone rings.
This sounds easy, but it's not always possible. Nevertheless, it's best to answer inbound calls as quickly as possible. Too many rings can irritate waiting patients and affect their perception of your practice. You can lose patients. And don't forget how all those extra rings can add noise to your office. It can even create patient attrition and negative word-of-mouth. No practice would want that.
Be friendly and professional.
Cheerful = Good business. Greet callers in a friendly and professional manner. Make sure to state your name and the name of your medical practice. Ask the caller's name to refer back to it if needed. Make sure to ask the caller how you can be of assistance to them. Here's a trick. Try smiling as you answer the phone. It naturally improves your voice to make it sound lively, energetic, and approachable. Avoid answering a phone call while eating or chewing gum, as this is like showing disrespect to the caller.
Use the right volume and speed when speaking.
Speak in a low tone, moderate volume, and right speed when talking to patients. This way, you'll be able to convey your words clearly and understandably. You should only raise the volume of your voice when you have to clarify a statement. For example, if a patient is elderly and has a hard time understanding what you're saying, you can raise your tone a little higher. However, make sure you aren't shouting at a patient when clarifying statements.
Before putting patients on hold, ask for their permission first, and wait for their reply.
It can make the patient feel unimportant if they are quickly shuttled to hold before getting their okay. Let the caller know if the person they are looking for is available. If not, inform them that the call will be transferred to voicemail. The caller may have no idea how long they will be on hold. Always check back with patients and reassure them that they haven't been forgotten. If the caller is put on hold for a little longer, apologize for the inconvenience. Thank them for their patience.
Listen attentively to the caller.
This is a big one: Listen carefully on a call to determine how you can best assist. If the caller is explaining something complex, show interest and concern. It is best to take notes while listening to the patient so that you won't miss any relevant information. Wait for the caller to finish before you ask questions. Before you end the call, repeat the key points, or clarify confusing statements to get the right information.
When taking a message, tell the caller when there will be a response.
Always try to manage patient expectations. Don't make promises you can't keep. If you know that the patient will not get a response from you until the end of the week, inform them. You don't want them to call the office continuously. If the patient has not yet received an update during the promised time frame, explain the delay, and tell him that you will immediately get back to them when you have the answer.
When you need to end the call, it can sometimes get awkward. So prepare a closing statement to end calls properly. It should be in a friendly and courteous manner. You must always ask the caller if there's anything else you can help him with. Don't forget to thank your caller at the end of the conversation. Wait for the caller to end the call before hanging up.
The Bottom Line
You want to avoid broken phones thrown by frustrated patients. It's not just about answering properly, but the way you sound. Practice your answering skills. And practice that smile.
But here's another option: If you're looking for a healthcare company to help you deal with phone calls, scheduling, voicemail transcription, and appointment reminders, DrCatalyst can help you. We offer medical billing, clinical & administrative, medical transcription, and medical marketing services to help healthcare providers and medical practices. Schedule a meeting with us to learn more.