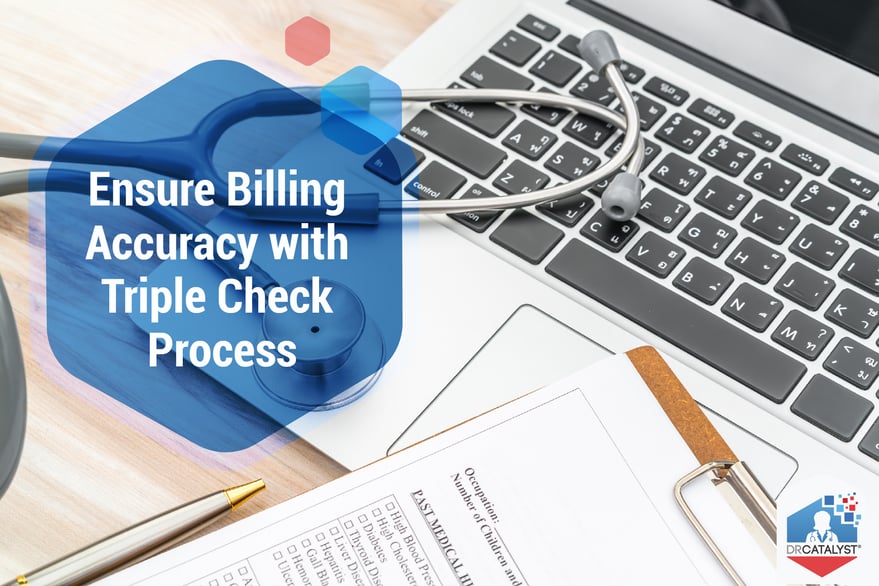 If you bill for a skilled nursing facility (SNF), you need to submit bills consistently on time with zero errors. However, it's easier said than done. That's why having the Triple Check Process in your practice can help make clean claims a reality.
The Triple Check Process refers to the internal audit that promotes billing accuracy and compliance for regulatory guidelines before submitting those claims to Medicare/Managed Care providers for reimbursements. It is a three-layered approach that takes a collective effort from your Interdisciplinary Team (IDT) to provide Medicare/Managed Care residents with a check and balance of the entire admissions, billing, and Minimum Data Set (MDS) process. It needs to be completed around the eighth day of the month following the month you are closing.
Ensure all your Minimum Data Sets (MDSs) are completed, submitted, and accepted for the closing of the month before setting the specific date for your Triple Check meeting. Also, include your Business Office Manager, Administrator, MDS Coordinator, DON/Medical Records, and Rehabilitation/Therapy department.
Triple Check Process Review
Let your team review the following when conducting your Triple Check Process:
1. Therapy services documentation accuracy by:
Verifying that detailed minutes/units reported on service logs on the claim
Medicare Part A: minutes correspond with RUG designation
Medicare Part B: units reported in compliance with regulation
Verifying appropriate modifier usage (KX or 59)
Ensuring appropriate supporting diagnoses
A physician order is for treatment provided and specific to services provided
Therapy Plan of Care is signed and dated by the physician
Ensuring medical necessity
2. Minimum Data Set by:
Ensuring MDS assessments are rendered complete, submitted, and accepted for the current billing cycle
Ensuring UB-04 and MDS match (diagnosis codes, assessment reference rates, occurrence dates, etc.)
3. Medicare compliance/clinical eligibility requirements by:
Ensuring the needs of the patient and providing regularly medically required competent treatment, delivered by or under the direct supervision of qualified nursing or rehabilitation practitioners
All services are rendered in a skilled nursing facility setting
Any rendered service should be ordered and certified by the attending physician
Services given must be for a condition for which the client was or occurred during the qualified hospital stay during the care of a condition for which the client was previously treated in the hospital in the SNF.
4. Verifying physician certification/recertification by ensuring:
A physician/NP/PA should sign and date the initial certification
Certification/Recertification is complete with all required information and signatures
A physician/NP/PA should have signed the first recertification by the 14th day
Subsequent recertification within 30 days of the previous signature by physician/NP/PA
It is important to note that any inaccuracy/incompleteness will cause an automatic denial during an audit with no appeal available
Preparing for Triple Check Process for PDPM
The Triple Check Process can seem overwhelming at times, but it also removes unnecessary hassles if/when an Additional Development Request (ADR) or insurance audit is requested. Here's how you can prepare for your Triple Check under PDPM:
Procedure & Process
Before submitting to the Fiscal Intermediary, the practice is responsible for introducing an appropriate monthly triple-check procedure to ensure statements are correct. Each Medicare (Part A and B) claim before submission will be checked by the staff.
Individuals Involved:
Administrator
Director of Nursing
Minimum Data Set Coordinator
Therapy Program Manager
Business Office Manager
Medical Records
Administrator Role
Responsible for ensuring that the meeting is held monthly and that everyone is present, on schedule, and prepared along with the Triple Check Checklist
Partner with DrCatalyst
Go hassle-free with your billing operations with our outstanding medical billers and coders. DrCatalyst offers end-to-end revenue cycle management services that will help your practice increase your revenue and reduce medical billing inefficiencies that hurt your cash flow. You can also get a free revenue cycle management check-up with our medical billing experts!
Schedule a free consultation today!