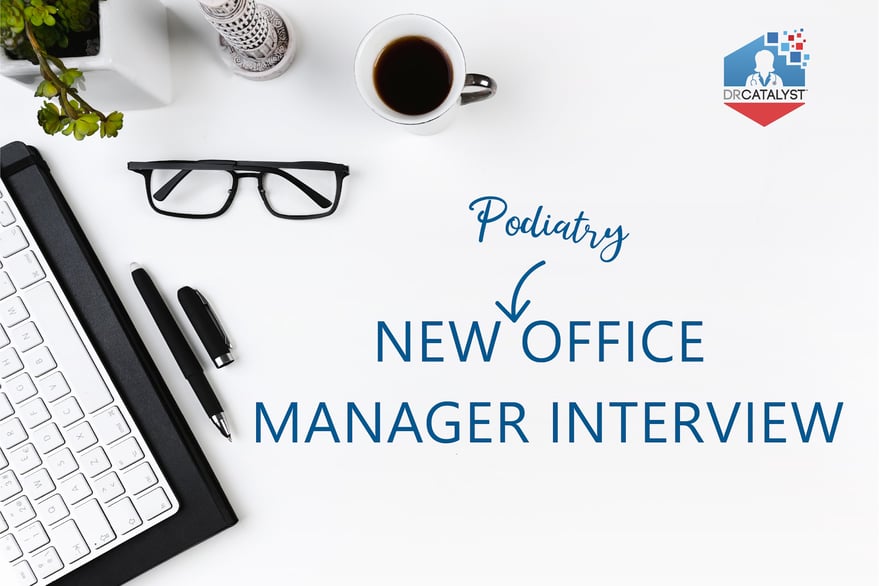 Overview
Today, physician practice managers are focused on liaising with patients about their billing concerns and handling the facilitation of excellent patient care. However, one of the responsibilities of the practice manager that many people often overlook and forget about is marketing.
Some medical practices have in-house marketers (although it is pretty rare). And some practices just work off of referrals, so they don't have to focus on marketing. However, aside from those two scenarios, most medical practices have to figure out the best way to promote their practice and attract new patients on their own. And more often than not, this responsibility falls on the physician practice manager.
Here's the good news - in today's digital age, there are numerous ways to attract new patients. From having a well-designed website to positive online reviews, there are several different ways to get the attention of potential patients. However, sometimes it's best to hear from someone in the same role as you. So, we had a discussion with an experienced office manager - Julie Smith from Family Podiatry Clinic - to get her to take on marketing + the other responsibilities she handles.
- Introducing Julie Smith -
Julie is a seasoned office manager and has worked at Family Podiatry Clinic for the last 15 years. Family Podiatry Clinic is a state-of-the-art facility, and the practice is committed to providing its patients with a superior level of care in a personalized and friendly environment. And to keep the practice up and running smoothly, Julie handles all the administrative tasks and oversees operations. She is also responsible for the clinic's marketing (which you'll learn more about in the Q&A below). If you want to learn more about Julie's successes and challenges as an office manager, keep reading!
The Q&A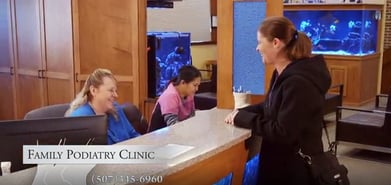 Q: Can you tell me a little bit about your practice?
We're a small practice. There's one doctor, and we have two locations. We're here in Mankato three days a week and we're up in Chanhassen on Thursdays. And we usually do surgeries on Fridays. We outsource our billing and there's another receptionist that helps me, so we're really small.
Q: How long has your practice been around?
This clinic has been around for like 80 years.
Q: How long have you been an office manager at your practice?
15 years.
Q: Could you please share what your role is like on a day-to-day basis?
I do everything. I handle the front desk. I do paperwork. I do everything except for the doctor's work.
Q: What would you say is one of the most challenging things about your role as an office manager?
Well, this year, it's been our server. Our server died, so we had a lot of computer issues. So, that's been ultimately frustrating.
Q: What did you do to overcome that? If your server is down, what is your workaround?
We bought a new server, and we worked with our IT and to get things up and running during the process. It just hasn't been foolproof.
Q: Are there any challenges specific to your specialty?
Just the competition. Because we're a small clinic, we have competition with the hospitals. The referral base has died down. Because it used to be that they didn't have podiatry here in the main hospital, and now they do. So we're kind of getting put on the back burner.
Q: Are you the one who handles marketing?
Dr. Cowl and I both do that.
Q: Has marketing been a challenge?
Yes. And especially because we're trying to get our other location to be busier as well. We're in our third year there.
Q: What are some of your current marketing tactics?
We have a website, and we use some social media. He's [Dr. Cowl] also on Facebook. And we had a commercial, but we didn't really get anything from that commercial.
Q: Earlier, you talked about outsourcing your billing. Have you experienced any challenges when comes to outsourcing?
I'm very happy with our billing person. She's been with us forever and she's great.
Q: If there was another healthcare professional who is thinking about stepping into a role as an office manager, do you have any advice that you would share with that person?
I would just make sure that they have the resources that they need to do everything, whether it's more staff or just knowledge on where to find things.
Q: What is the one thing that would make your life easier as an office manager?
If I could delegate more stuff, that would be better.
Q: What is your favorite thing about your job?
I like that there's variety, that it's not the same thing everyday.
Final Thoughts
One of the things that really stood out during Julie's interview is the challenge of marketing and finding new patients. We touched on this topic a little bit at the beginning of the blog, but I wanted to mention a few additional things.
Marketing isn't an uncommon challenge for office managers. If you're struggling to attract new patients, there are three things that we suggest focusing on: improving your online reputation, creating a well-designed + mobile-friendly website, and improving your Google ranking through local SEO.
If you need resources to help you with those three things, here are a few resources that I highly recommend:
Look, we get it, being a practice manager can be very time-consuming and sometimes overwhelming, especially at a small practice. From overseeing billing to coming up with a plan to attract new patients, practice managers have a lot to manage. However, the resources above will help you on your journey to gaining new patients.
Interested in participating in our Office Managers blog series? Email our interview coordinator, Adrian, at adriand@drcatalyst.com to set up an interview.