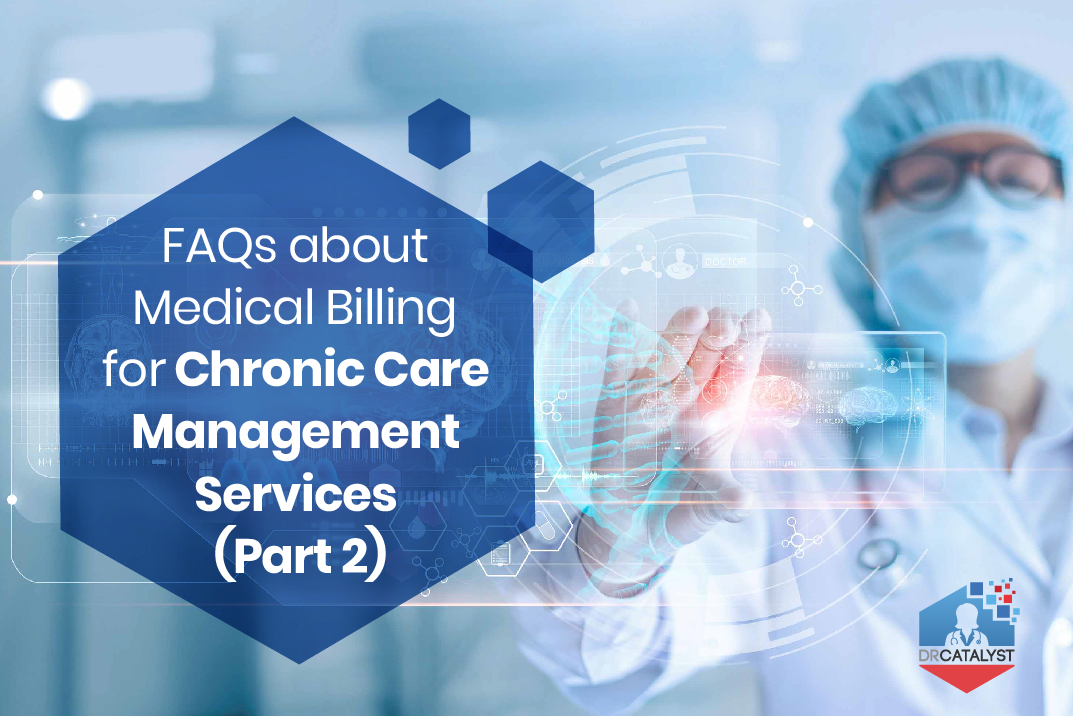 11. Should you count face-to-face activities as billable time?
A large part of CCM activities is not face-to-face with the patient. For instance, most of it is phone calls, medical records review, test result review, communication, and coordination with other health providers. These "non-face-to-face" activities are in the payment for face-to-face visits before the separate payment for CCM. However, if these activities are often provided face-to-face for convenience or other circumstances, the time can be counted in a CCM service code(s). An example of these is patient education and motivational counseling CCM activities that often use non-face-to-face means of communication. The activity can still be counted as billable time if the practitioner believes a given patient would benefit or engage more in person, or for similar reasons, recommends a given patient receive certain CCM services in person. However, the time and effort cannot count towards any other code if it's counted towards CCM.
12. Medicare and CPT allow billing of E/M visits during the same service period as CCM. How do I allocate the total time between CCM and the other E/M code(s) if an E/M visit or other E/M service is provided the same day as CCM services?
Time or effort that is spent providing services within the scope of the CCM service, on the same day as an E/M visit or other E/M service that Medicare and CPT allow reporting during the CCM service period, can be counted towards CCM codes. Note that CCM services are E/M services. It can count as long as it is not in other reported E/M code(s). It is important to note that time and effort cannot be included twice, whether face-to-face or non-face-to-face, and Medicare and CPT provisions specify specific codes that can never be billed during the CCM service period (see below).
13. You cannot bill CCM and transitional care management (TCM) in the same month. Does this mean that CCM service codes cannot be billed that month to the PFS if the 30-day TCM service period ends during a given calendar month, and a qualifying amount of time is for providing CCM services on the remaining days of that calendar month?
Yes, the CCM service code(s) can be billed to the PFS during the same calendar month as TCM service if it ends before the end of a given calendar month. On a condition that there is a qualifying amount of time is spent furnishing CCM services consequently during that month, and all other conditions to bill CCM are met during the rest of the month.

14. Are there services that cannot be charged under PFS in the same month as CCM?
Yes. CCM service codes cannot be billed during the same service period as home health care supervision (HCPCS G0181), hospice care supervision (HCPCS G0182), or certain ESRD services (CPT 90951-90970) by Medicare. It is due to the comprehensive care management included in CCM that can overlap with these services. Also, there is an unbillable list of additional codes in the CPT coding guidance for the same month as the CCM service codes. In a CMS model or demonstration program, there may be additional restrictions on billing for participating practitioners. You can consult the CMS staff responsible for these initiatives with any questions on potentially duplicative billing if you participate in one of these separate initiatives.

15. Can I bill for CCM if the patient dies during a service period?
Yes, you can. That is if the required service time for the code(s) and all other billing requirements are met during the service period.

16. Can practitioners use an acceptable certified electronic health record (EHR) technology where the certification expires mid-year to bill for CCM? Can they use technology certified to the 2011 Edition to complete the range of services that are required to bill CCM in 2015 if this technology no longer has a "2011 Edition certified" mark?
Yes. According to the CCM scope of services, practitioners and healthcare providers must record patient health information in a structured format, using the accepted technology certified to the Edition (s) of certification criteria of the EHR Incentive Programs as of December 31 of the year preceding each CCM payment year. In several years, this may mean that practitioners can accomplish the scope of services requirement using various Editions of certification criteria. For example, practitioners can use technology certified to either the 2011 or 2014 Edition of certification criteria to meet the EHR scope of service requirements for payment in 2015 because both Editions could be used to meet the requirements of the EHR Incentive Programs as of December 31, 2014. This can also apply for a given PFS payment year even after ONC-Authorized Certification Bodies (ONC-ACBs) have excluded the certifications published to technology certified to a given acceptable edition due to the critical criteria being discarded from the Code of Federal Regulations. Thus, practitioners using an acceptable EHR technology that expires its certification mid- year may still use that technology to meet the certified EHR criteria for billing CCM through the relevant payment year. If a practitioner's technology expires its certification in the last calendar year, the technology (e.g., the Edition of certified health IT) is valid for CCM's goals (due to expiring certification) criteria from the FR or another reason). Thus, practitioners can continue using technology for CCM for the remainder of the year.
17. Do the Medicare Access and CHIP Reauthorization Act of 2015 (MACRA, P.L. 114-10) affect the billing rules and conditions for CCM services?
No, it does not. Section 103 of the MACRA systematizes payment broadly for chronic care management services under the PFS, allowing PFS payment after January 1, 2015, for CCM services provided by practitioners and the non-physician practitioners that Medicare commonly acknowledges providing and billing for E/M services (doctor assistants, nurse practitioners, clinical nurse specialists, and certified nurse midwives). It does not change the current billing and payment rules for CCM. It presents that terms of an AWV or IPPE in advance shall not be a condition of payment for CCM services, which aligns with the current policy. It also presents that payment shall not be duplicative of other Medicare payments, compatible with the rules we have implemented to date regarding duplicative payment for CCM.
18. Can the practitioner bill the patient if they refuse to receive CCM services and do not provide consent or do not meet the payment conditions?
No, they cannot. The patient should provide the necessary consent and must meet all other Medicare conditions of payment to bill Medicare or the patient for CCM. If the patient did not consent or did not meet other conditions for payment, the practitioner could not bill Medicare or the patient for CCM. However, Medicare would consider any CCM services provided to the patient as included in the payment for the face-to-face visit(s) provided. As noted in the CY 2014 PFS final rule with comment period (78 FR 74414-74415), payment for bundled non-face-to-face care management services into payment for face-to-face visits, and did not revalue these visits under the PFS to consider for separate payment of CCM services. Also, note that consider CCM as a reasonable and necessary covered Medicare service, so it would not be proper to bill the patient an Advance patient Notice of Noncoverage (ABN).
19. If I spent more than the minimum service time for CPT codes 99490 and 99491, can I charge more than one unit or more than one line item in the service period to cover for this time?
No, CPT codes 99490 and 99491 defines a minimum number of minutes of service, not maximum. Therefore, the practitioner can only bill one unit and one line item per calendar month.
20. Will Medigap cover the patient cost-sharing for CCM?
Yes, they will. If covered services are under Medicare Part B, Medigap insurers do not have the authority to refuse or reject the coinsurance, copayments, or other benefits that are payable on account of the patient under the terms of the Medigap insurance contract. Private insurers implementing standardized Medigap plans allow them to acquire notice of Medicare payment as a claim for the payment of benefits under the Medigap plan unless the Medigap policy itself has an unmet deductible (e.g., high deductible Plan F).
21. Will Medicaid cover the patient cost-sharing for CCM for dually qualified patients?
The Centers for Medicare & Medicaid Services (CMS) wants to guarantee that Medicare- January 1, 2019, 6 Medicaid dually qualified patients have access to CCM services. The majority of dually qualified patients (approximately 64%, or 7 of the 11.4 million dually eligible patients) are Qualified Medicare patients who are not responsible for CCM cost-sharing. For Qualified Medicare patients, Medicaid is responsible for deductibles/coinsurance for Medicare services, including CCM, even if there are uncovered services in the State Plan. However, as permitted by federal statute, most states limit payment of Medicare cost-sharing to the "lesser-of" Medicaid or Medicare rates. If there is an uncovered service in the State plan, states can establish other reasonable payment limits, allowed by CMS, for the service. The net effect of these policies is that many states pay little to none of the Medicare deductible/coinsurance, leaving practitioners to receive the costs for Qualified Medicare patients. In states where there would be coverage of some or all of the patient cost-sharing, practitioners need to be registered as Medicaid providers to get paid for the Medicare cost-sharing; however, Medicare automatically "crosses over" claims to states for dual-eligible patients, so practitioners need not submit their bill.
22. Is there a list of qualifying conditions for CCM?
No, there is not. It is not limited to a certain list of illnesses. The chronic conditions must meet the criteria in the CPT code descriptors, so qualified patients must have two or more chronic conditions supposed to last at least 12 months or until the death of the patient, and that place the patient at considerable risk of death, acute exacerbation/decompensation, or functional decline. Also, patients acquiring complex CCM (CPT 99487, 99489) need moderate to highly complex medical decision making. Billing practitioners may analyze additional factors suggested in CPT guidance to identify patients who need CCM (such as several medications, multiple repeat admissions or emergency department visits, or the profile of typical patients in CPT prefatory language).

23. Can specialists bill CCM or only primary care practitioners can?
CCM is for primary care practitioners who manage all of a patient's care. For example, it involves a comprehensive care plan addressing all health issues and guaranteeing receipt of preventive services. However, any practitioner who meets the CCM requirements can bill CCM. CCM also involves cardiologists, nephrologists, and other specialists who tend to manage multiple chronic conditions and overall care.
Here to Help
We also have a part 1 for FAQs about Medical Billing for Chronic Care Management Services. We truly understand that medical billing can be confusing and difficult. If you have more questions about CCM medical billing, you can schedule a free consultation with DrCatalyst.