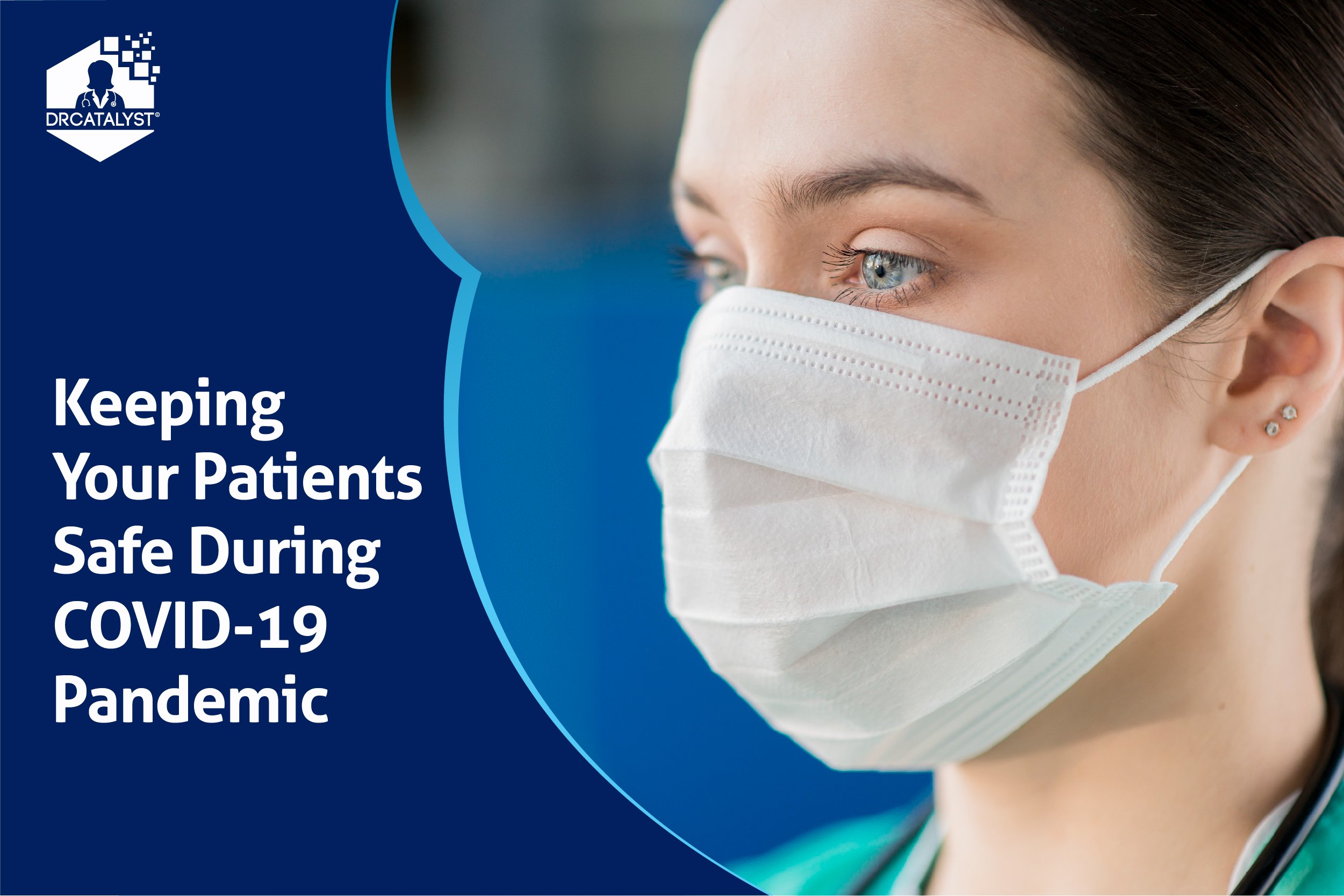 How to Keep Patients Safe During Pandemic?
Anxiety and Fear. Both dug its claws deep into everyone as the medical workers throughout the world continue its fight against the coronavirus. As a healthcare provider, you must have felt the strain of the pandemic in keeping your patients safe and delivering the same quality care. That is why we have gathered some ideas for you on the best ways to ensure your patient's safety.
Ensure strict mandatory screening upon patient and staff arrival. Set up compulsory temperature checks and COVID-19 symptoms screening for everyone who enters your clinic. Test anyone who shows signs of COVID-19.
Install hand sanitizer stations. Frequent hand washing and sanitizing can help reduce the risk of contact and respiratory droplet transmission of COVID-19. Make sure to provide hand sanitizers at all entrances and stations located throughout your clinic.
Minimize patient waiting time.

According to the

World Health Organization

, COVID-19 can stay in the air for long distances and time. That is why it is essential to avoid keeping a group of people in one room for long periods of time. You can let them contact you first from the parking lot or outside of your clinic upon their arrival. Give your instructions on when they can enter the premises or if they can proceed immediately to one of your clinic facilities for laboratory tests.
Impose strict social distancing.

Modify seating arrangements and mark your floors with at least six feet of distance to help guide your patients with your social distancing protocols. Equip your reception and admin desks with plexiglass shields to reduce the chances of transmission.
Lower patient traffic.

You need to adjust your scheduling methods and give a more extended period in between patients. It might decrease your patient volume, but it ensures not only your patient's safety but also yours.
Require everyone to use a mask.

Masks can help reduce the risk of transmission by lowering the chances of contact and droplet transmission.
Minimize face-to-face contact.

Utilize digital healthcare technologies to minimize direct physical contact with patients and staff.

Innovations that Keeps Patients Safe during COVID-19 Pandemic
With the COVID-19 pandemic, the healthcare industry was forced to adapt and evolve. It brought a lot of innovations that help secure your patients' safety amidst the epidemic. Telehealth Solutions and Remote Medical Staffing are two of the best healthcare innovations that can help you provide a swift and safe healthcare delivery.
Telehealth Solutions
Telehealth is one of the latest and best innovations where technology meets healthcare. It refers to digital tech use to assist in healthcare delivery and improve its services. It involves using computers and mobile devices to access health care services remotely and aid remote healthcare management. It is the accumulation of digital technologies that support the healthcare industry. Here are some examples of telehealth solutions that may protect your patients from the coronavirus:
You can set up video conferencing appointments with your patients for initial and follow-up check-ups that don't need in-person health evaluation.
It allows you to get a real-time update on your patients via remote monitoring using mobile devices and web-based software for instant medical data transmission.
You can offer a secure means of communication between your patients via a patient portal. It also allows them access to their medical data. It will also enable your patients to book appointments, send refill requests, and submit necessary forms.
Secured collaborative care communication
It will allow doctors to send medical data to the other doctors of a patient, especially those with multiple chronic conditions. For example, a primary care doctor can send their exam notes and other medical data to a specialist to review.
Electronic Health Record, Electronic Medical Record, and Personal Health Record allow secure online storing of your medical records and easy access using web-based devices like computers, phones, and tablets.
Apps for healthcare management allow your patients to take control of their healthcare. It will enable them to record their vital signs, calculate and track their caloric intake, schedule reminders for taking medicine, and record physical activity.
Appointment Booking System
Provide safety and security to your patients by letting them book their appointments through your website. It will remove a hefty amount of workload for your front desk staff too.
Remote Medical Staffing
Remote medical staffing refers to having your staff work at home, offsite, or in a separate place apart from your clinic. It can greatly lessen the risk of transmission in your practice with lesser people working onsite. Here are four areas in your medical practice that can work best remotely.
Administrative and Clinical
You can say goodbye to long phone calls, tedious EHR entries, and piling paperwork. DrCatalyst's remote services can streamline and automate your clinical and administrative process, giving you more time for what matters the most - your patients. We can assist you with the following:
Remote Phone Assistance
Prior Authorization Processing & Tracking
Referral Processing & Tracking
Fax & Document Management
New Patient Concierge Service
Reminders & Tasks Management
Records Review
Personal assistant for Executives
Keep in mind that a profitable medical practice centers around healthy revenue cycle management. If you keep losing money due to suboptimal billing, then maybe its time to partner with a dedicated remote medical billing company like DrCatalyst. We can assist you with the following:
Provider Credentialing
Eligibility & Benefits Verification
Medical Coding
Charge Entry
Claim Services
Denial & Appeals Management
Accounts Receivable Follow up
Payment Posting Process in Medical Billing
Revenue Reporting

Healthcare Marketing
You are a healthcare service provider, which means you need to focus on giving the best quality care to your patients solely. DrCatalyst's Medical Marketing expertise can help in significantly boosting your patient volume. We can assist you with the following:
Website Design
Search Engine Optimization
Google Reviews
Blog Writing
Marketing Content
Email Marketing
Paid Search & Search Engine Marketing
You no longer need to document and treat your patients simultaneously. DrCatalyst's Medical Transcription services partner with your existing EHR to improve your medical practice's transcription process. We have a three-step transcription process that is quick, accurate, and secure. Overall, our transcription services' goal is to allow you to focus more on what's most important: treating your patients.
What's the Best Remote Medical Services Company?
DrCatalyst is the right partner for you. We got you covered from your administrative and clinical needs, all the way to assisting you with your transcription and documentation process. You can also get a free revenue cycle management check-up with our medical billing experts!
Schedule a free consultation today!