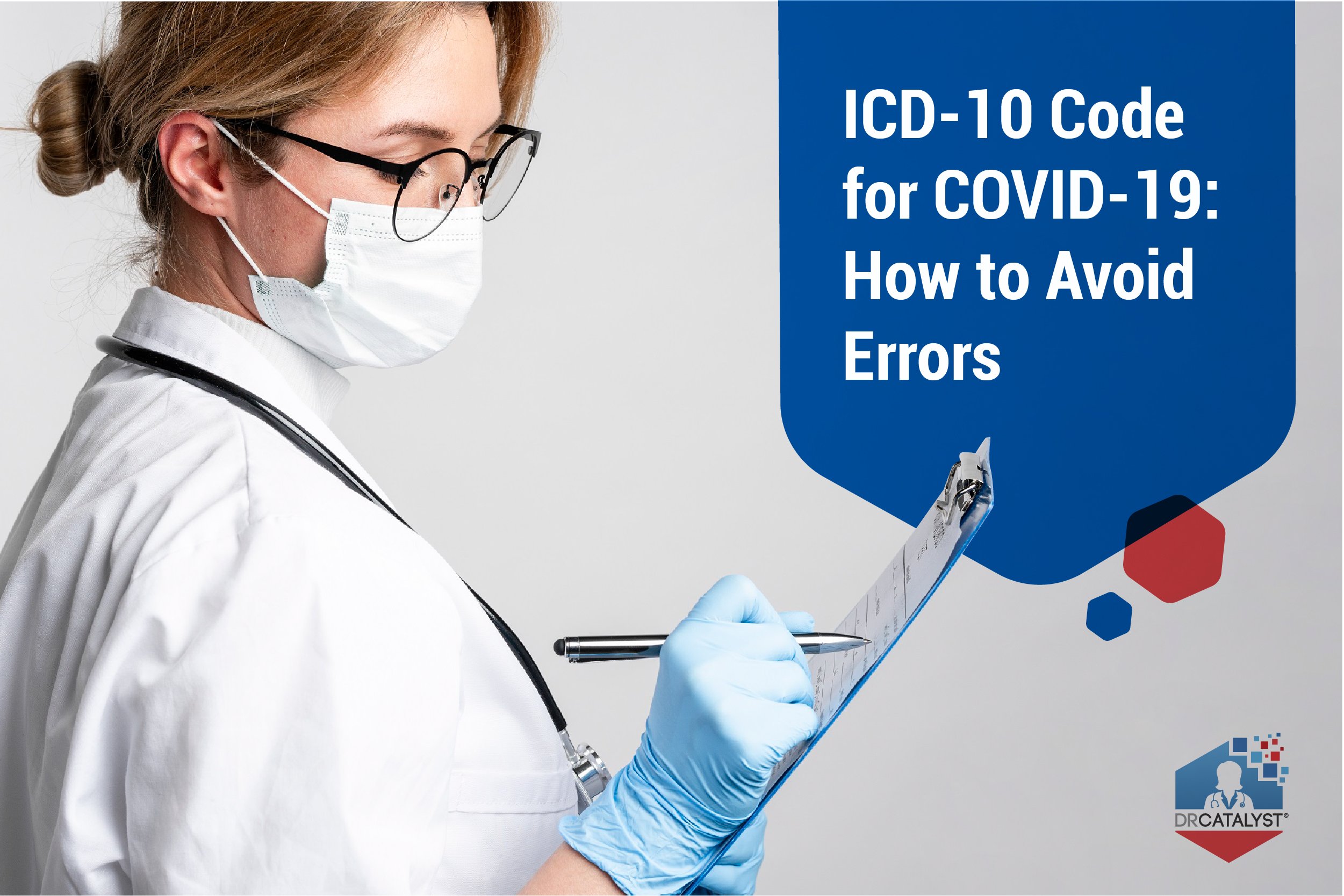 ICD-10-CM Coding Guidance for COVID-19
Medical Group Management Association (MGMA) reported the following respiratory conditions related to COVID-19 to be allocated as follows:
Acute bronchitis
Due to COVID-19: J20.8
Due to other specified organisms: B97.29
Not acute, due to COVID-19: J40
Not acute or chronic: B97.29
Acute respiratory distress syndrome (ARDS)
Due to COVID-19: J80
Due to acute respiratory distress syndrome: B97.29
Exposure to COVID-19
Possible exposure, but COVID-19 ruled out: Z03.818
Exposure to someone with COVID-19: Z20.828 (code not necessary if a patient has the disease)
Lower respiratory infection
Associated with a lower respiratory infection (not otherwise specified) or acute respiratory infection (NOS): J22
Unspecified acute lower respiratory infection: B97.29
COVID-19 associated with a respiratory infection (NOS): J98.8
Other specified respiratory disorders: B97.29
Pneumonia
Confirmed due to COVID-19: J12.89
Other viral pneumonia and other coronaviruses as the cause of diseases classified elsewhere: B97.29
Signs and symptoms
Cough: R05
Fever unspecified: R50.9
Shortness of breath: R06.02
In addition, you should not report "suspected" cases of COVID-19 with B97.29 and B34.2, coronavirus infection, unspecified.
How to Code for COVID-19: Diagnosis, Testing, Telehealth
Coding for COVID-19-related conditions is changing rapidly. The following guideline is information that can help you code for COVID-19 diagnosis, testing, and telehealth services:
COVID-19 Positive:
Assign U07.1, COVID-19, a positive COVID-19 test result, or a probable positive COVID-19 test result for a verified diagnosis of the novel coronavirus disease (COVID-19) as reported by the provider. Confirmation will not require documentation of the type of test performed therefore the documentation given by the provider of the patient will be adequate.
In addition, record any contributing conditions as secondary diagnostic codes to the U07.1 diagnosis, including (but not limited to):
J12.89 Other viral pneumonia
J20.8 Acute bronchitis due to other specified organisms
J40 Bronchitis not specified as acute or chronic
J22 Unspecified acute lower respiratory infection
J98.8 Other specified respiratory disorders
J80 Acute respiratory distress syndrome
Suspected Infection of COVID-19
If the provider records "suspected," "possible," "probable" or "inconclusive" COVID-19, do not grant the U07.1 code. Assign a code(s) specifying the cause for the encounter (such as fever) and/or Z20.828, interaction with and (suspected) exposure to other communicable viral diseases.
COVID-19 Exposure
Grant code Z03.818 if there is concern regarding potential COVID-19 exposure. However, omit it after evaluation. Rule out the encounter for observation for alleged exposure to other biological agents. If the patient has other signs/symptoms, do not grant Z03.818.
Assign the code if there is an exposure to someone who is confirmed or suspected (not ruled out) of having COVID-19 and the person exposed is either negative, or the test results are still unclear.
COVID-19 Fetal Exposure
Grant code P00.2, a newborn is impacted by maternal infectious and parasitic diseases, if the mother of an infant is COVID-Positive, and the baby's condition is uncertain.
Report Z05.1 if the infant tested negative for COVID-19 infection during the hospital stay. Rule out observation and evaluation of the newborn for suspected infectious conditions. If the infant tested positive for COVID, report P00.2, and U07.1 to indicate the infection in the newborn.
COVID-19 Screening
Assign code U07.1 for asymptomatic patients that tested positive for COVID-19.
Grant code Z11.59, Encounter for screening for other viral diseases., for all asymptomatic patients that tested for COVID-19 with no documented exposure to the virus and the test findings are unclear or negative. See the guideline above for COVID-19 Exposure for screened individuals due to any possible or actual exposure to COVID-19.
COVID-19 Testing Procedure Codes
The Current Procedural Terminology (CPT) Editorial Panel has provided the following new codes for immediate publication that will serve as procedural codes for testing.
86328 Immunoassay for infectious antibody(s), qualitative or semi-quantitative, single-step method (e.g. reagent strip); severe acute respiratory syndrome coronavirus 2 (SARS-CoV-2) (COVID-19)
Assign 86769 for multi-step antibody testing, where the antibody is the severe coronavirus 2 (SARS-CoV-2) (Coronavirus disease [COVID-19]).
.
Telehealth policy
Telehealth has evolved from a strict description and location-based service constraints to a comprehensive collection of services, expanded meanings, and elimination of location-based service constraints. Knowing the requirements of your payers is essential to understand how to achieve maximum reimbursements during the pandemic.
AAP tracked policy changes for payers as payers expanded their telehealth coverage. In addition, the AAP sent letters to the largest regional and national carriers advocating expanded telehealth coverage and provided telehealth coding guidance for preventive medicine services.
Partner with DrCatalyst
Go hassle-free with your COVID-19 coding with our outstanding medical billers and coders. DrCatalyst offers end-to-end revenue cycle management services that will help your practice increase your revenue and reduce medical billing inefficiencies that hurt your cash flow. You can also get a free revenue cycle management check-up with our medical billing experts!
Schedule a free consultation today!