What Are Online Reviews?
I know that you are likely already familiar with what online reviews are. However, to reiterate, online reviews (or customer feedback) are information coming directly from customers or patients. Whether they are satisfied or not, they are opinions/comments made after purchasing or using a product or service. Their feedback is sent through online review sites such as Google, Yelp, and Healthgrades.
Why You Should Care About Your Online Reputation
What most doctors fail to realize is that they can get more patients if they boost their online reputation. Simply focusing on what your patients are saying about you in the digital world can make a huge difference and have a major impact on your online reputation.
I think the best way to show you why you should care about your online reputation is through statistics. Here are a few eye-opening stats about online reviews pertaining to local businesses:
90% of consumers take the time to read online reviews before visiting a business
88% of consumers trust online reviews just as much as they trust personal recommendations
72% of consumers say that positive online reviews make them trust local businesses more
92% of users will try out a business if they have 4-stars or more
86% of people will not bother trying out a business if they have negative reviews
I know the above statistics are more focused on local businesses. However, if customers value online reviews for local businesses, just think about how much they value online reviews when it comes to choosing a doctor. Don't worry. We'll be discussing statistics related to online reviews for doctors a little further in this blog post.
People are super health-conscious nowadays. I bet you're one of them. You look up everything online, especially when you're not feeling well. And with most Americans being under the care of an insurance plan, they have a lot of choices when it comes to choosing a doctor. But the question here is - how can you find the perfect doctor? It's simple! Read what other people are saying about a doctor. That's a great place to start.
How To Handle Negative Reviews
Before I share the importance of positive online reviews, let's talk about negative online reviews. As a doctor, no matter how much you try, some patients are just very irate and hard to please. So let's take a look at how you can handle negative reviews and use them to your advantage.
Can A Single Negative Review Hurt Your Online Reputation?
As much as you hope to never receive a negative review, it is sometimes inevitable. However, a single negative review won't be too detrimental if the rest of your reviews are positive. Yes, it may have an impact on some patients but most patients look for at least five to six online reviews, on average, before making a decision. So, if you receive one negative review but have at least 10 positive reviews, don't fret too much.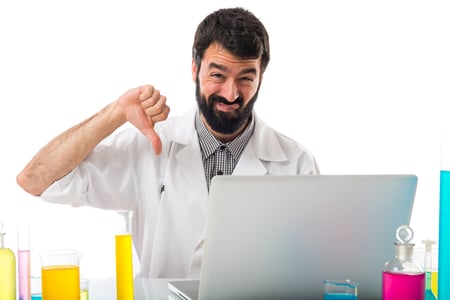 How Negative Reviews Can Help Your Medical Practice
A fair and sensible person knows that not all medical practices, medical facilities, and even doctors are perfect. There will always be a flaw that only a few people may notice. So, how can you use a negative review to your advantage? You can start by addressing the problem. Instead of ignoring it, how about dealing with it? Wouldn't it benefit you more if you deal with the problem? That way, your patients would appreciate it and they will feel as if their voice is being heard.
And, psychologically speaking, people tend to get skeptical if all reviews are perfect. I, for one, would assume that these are all paid and biased reviews. And there are stats out there that agree with me. I mean, yeah sure, there are medical practices who have all honest-to-goodness positive reviews, but there are also medical practices who pay to have biased reviews. Yikes! Talk about cheating your way to the top.
What You Can Do With Negative Reviews
Instead of sulking all the negative energy in and getting mad at the patient who wrote the bad review, why not use it as a learning experience for you and your medical practice to get better? Here's how you can deal with negative reviews:
Respond promptly. Do not disregard negative reviews. If you only reply to positive reviews, that shows that you're not open for improvement. And, your patient will feel like you don't care about how they're feeling. Therefore, it's important to respond to negative reviews just as much as you respond to positive reviews.
Be real and admit your mistakes. Next to not responding to the negative reviews, patients find it absolutely disrespectful if you don't admit to your mistakes. Apologize (when needed), and admit when you are at fault. When patients see that you own up to your mistakes, it makes them trust you more.
Correct inaccuracies. There are just some patients who let their feelings get the best of them. I know it's pretty annoying when some people post negative reviews to destroy your online reputation.
However, instead of lashing out on the patient, you can provide accurate information and address it as formally as possible. In that way, potential patients who read your reviews will know that you respond professionally.
Highlight your strengths. Let people know what your strengths are. In a very competitive industry, there may be instances where your competitors are out to destroy you. So, find a way to turn the negative into a positive.
Write like a person, not a corporation or a machine. Automating your replies may be time-efficient, but it's not patient-friendly. Can you imagine getting the same exact reply that everyone else also got? Personally, I don't like it, so assume your patients won't like it either. To create a good rapport with your patients, make sure your replies sound personalized and from the heart. Trust me, they would appreciate that more.
Ask satisfied patients to write a review. Who would be the best person/people to write a positive review for you? A satisfied patients, of course. When you let happy patients write an online review for you, they will share their wonderful experience which can help improve your online reputation. The more, the better. Therefore, make sure you provide excellent care all the time so that your patients have something good to write about. Also, make sure your staff provides excellent customer satisfaction as well. You may be a good doctor but sometimes it's your staff who needs to learn a thing or two when it comes to providing excellent service.
Remember, whatever you do, NEVER delete negative reviews. Most online review sites such as Google My Business, Yelp, and Healthgrades can find a way to track if you deleted bad reviews. This is very unethical and it makes a biased reputation. Also, a lot of sites don't let you delete reviews.
However, if you find a negative review that is questionable, you can always reach out to the online review sites' team. Once you can prove that the review comes from the same account or IP address, you can file for a complaint and have these negative reviews removed.
The Impact Of Positive Online Reviews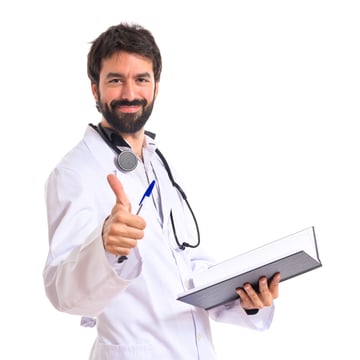 Now, it's time to focus on the positive side of online reviews. Before anything else, here are a few statistics about how patients choose their doctors online:
84% of patients evaluate online reviews before selecting a healthcare provider (Source: BrightLocal)
A 1-star increase in a medical practice's online rating can result in a 5-9 percent increase in revenue (Source: Harvard study)
72% of patients agree that positive reviews make them trust a medical practice more (Source: BrightLocal)
62% of patients use online reviews as a first step to finding their new doctor (Source: SoftwareAdvice.com)
Medical practices with 5-star reviews receive 25% more clicks than those with 3-stars (Source: BrightLocal)
35% of patients prefer physicians with positive reviews (Source: Journal of the American Medical Association)
Benefits of Online Reviews
Free advertising. For every review written by your patient, it can be a form of advertising on your end. Your name, your medical practice, the services that you provide are exposed to readers which increases the awareness of who you are and what you do.
Advertising is such a very expensive marketing tool. Traditional marketing channels include TV & radio ads, and print ads such as posters & flyers. Why settle for an expensive way of marketing your medical practice when you can use the Internet? You can take advantage of the free advertising that you can get by letting your patients write positive reviews for you!
Improved search engine results. Search engines such as Google and Yahoo take into account how many times your medical practice is mentioned in reviews. The more reviews you have, the more you're likely to appear higher in the search results when patients look for a doctor.
Constructive criticisms and suggestions. There are two types of patients. Patients who like you, and patients who don't. Patients who like you will write a positive review. Patients who don't like you either write a constructive criticism or just plain, mean review. For patients who write constructive criticism and suggestions, take them all into account and consider their point of view. Who knows, their suggestion may help to improve your medical practice.
Builds a closer relationship with patients. Like social media, online reviews can help build a closer relationship with your patients. One way would be to engage with your patients, especially when if they give a bad review. These patients are very sensitive and want to be heard. By replying to their review, you are giving them value which makes them feel like you are listening to their complaints and suggestions (if there are any).
Through your replies, patients can get to know you more and they can assess whether you're in it just for the money or you really truly care about their well-being. Make sure they don't feel like you only see them as a dollar sign. Trust me, they will return back the care you've given to them by writing an awesome review for you.
To Sum It All Up…
I know you only want what's best for your patients and for your medical practice. You want to provide top-notch patient care and earn money by it. With DrCatalyst, you can focus on what you do best and we'll handle the rest. We have recently launched our Google Reviews Service where we call your patients for you and ask them to write an awesome review. Start improving your online reputation today - schedule a one-on-one call with our online reputation management specialists today!