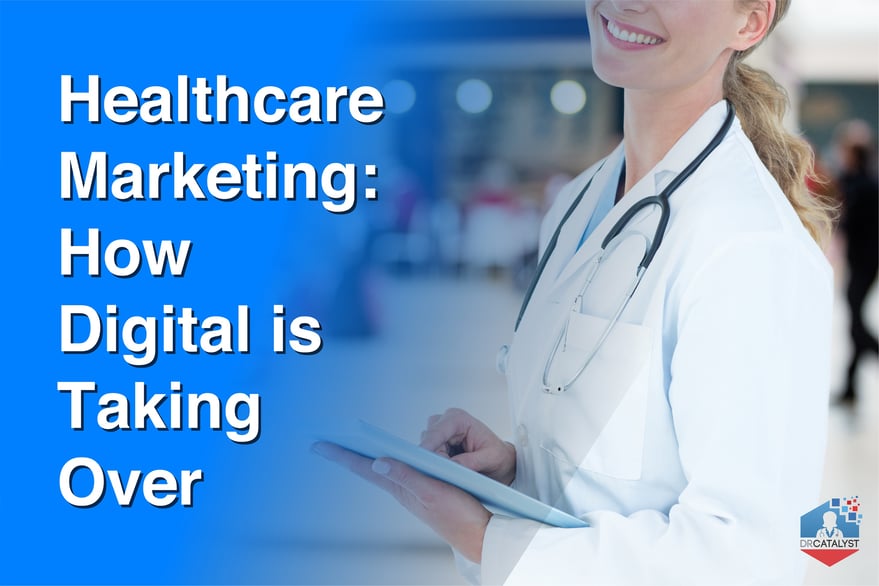 Living in an era of technology surrounded by innovations, endless possibilities are in your hands. Technology made it possible for marketers and consumers to connect at a more intimate level in being with them through a swipe on their personal phones or a click on their screens. Cultural change is called upon the healthcare industry, for digital media is no longer the future, it is already our present.
The Healthcare Marketing Industry
Healthcare marketing refers to the promotion and advertisements of the products and services provided by a clinic, hospital or healthcare provider. It is one of the fastest-growing services sectors worldwide. In the past, healthcare marketing evolved from simply putting a sign to their wagon, to the traditional marketing of printed flyers, news-sheets, periodicals, and newspapers. The introduction of radio broadcasting and television further advanced efficiency and effectiveness in marketing healthcare services.
Introducing Digital Healthcare Marketing
Healthcare providers take advantage of the emergence of digital media for their healthcare lines and services are on an invisible but rather a durable fine thread connecting them to numerous people globally. One of the greatest breakthroughs of what technology has to offer today is Digital Healthcare. True to its core, healthcare practices aren't being compromised but are being evolved. It's not about how advanced technology is available but the chance of further strengthening patient's and healthcare provider's relationships through continuous cultivation of trust earned through online marketing.
Digital marketing not only provides a top-quality in advertising healthcare services, but it also provides marketers with the ability to track their profits from their investment in advertising and customer satisfaction from the service provided. It also increases and strengthens the perception of trust, capability, and competence from the consumers with the continuous online presence of healthcare lines providing a quick and easy way of securing their services. It provides a closer way for healthcare services to get their patient's suggestions and recommendations on how to provide a better service where the principle in which consumer's choice leads to innovation is highly observed. Thus this ensures the constant aim for progress and healthcare service development.
Digital Healthcare Marketing Strategies
Healthcare providers are constantly under pressure to provide quality care and service. With quality being imperative, new technologies and strategies are adopted, changing the landscape of healthcare marketing forever. Here are some digital marketing strategies that are best for healthcare services:

This is the most basic and common for all businesses in today's time and that includes the healthcare industry. Almost 80% of patients rely on search engines in looking for a healthcare provider rather than from word of mouth or referral. Your website should be:
Inviting and attractive. Almost 80% of patients also claim that the online reviews and visual design of the healthcare website influence their choice in choosing a healthcare provider. According to a study, internet users increase by millions each year, thus putting pressure on all in the healthcare industry to digitalize their systems and marketing.
Responsive and User-Friendly. The healthcare industry needs to communicate and engage more with its constituents. Considering millennials who do everything online, you should already consider providing an online booking system for your patients. Aside from responsiveness, your website should be easy to navigate and is designed to adapt to a screen size of the device it is viewed on giving your potential patient an optimal viewing and interactive experience.
Informative. Your potential patients should easily see your contact information and address at the top and at the bottom of each page, as well it should also be found in your Contact Us page. The services and products you provide should also be displayed informing your patients on what you can do for them. Offer subscription for your health blogs and newsletters to your potential patients by having them submit their email addresses to your database.
Benefits of Having a Website:

Increases your Online Visibility
Increases your Reach for Potential Patients
Increase your Sales
Saves your Time and Money
Simplifies and Consolidates your Analytics and Reporting

Having a social media account for your healthcare organization. It is also considered as the most efficient way of advertising your health organization or clinic directly to your chosen demographic and community. According to statistics, there is an approximate of more than 2 billion internet users worldwide who are actively using social media networks in their daily lives. The number of users is expected to continuously grow with the constant growth of mobile social media users and mobile device usage. Currently leading the market is Facebook which is the first social network to surpass 1 billion active users. By using social media, your patients and potential patients may easily know what's new due to the trouble-free in posting your photos, updates, and events directly to your wall. Always utilize the paid online advertisements or boost posts that social media networks provide to be able to reach out to a larger demographic since few people may actually subscribe to the posts of their local hospital or healthcare organization.

Strengthen your Online Reputation

Potential patients on social media or your website will always read your reviews online that's why it is important to impart reputation management in your digital marketing strategy. Always ensure to give your patients the best possible care and service that you can provide then ask for a review. Negative reviews may haunt your practice forever and may scare your potential patients away, so consider what social media platform that you will incorporate into your practice.



In today's status quo, there is a high competition in search traffic which is why developing a Search Engine Optimization strategy is a must. A rising number of consumers are utilizing the web to search for medical and health-related information. A strong SEO strategy will surely help in boosting your search engine ranking, strengthen your online presence, increase your online visibility, and your online reach.

Healthcare Marketing Agency

Healthcare digital marketing is not easy, but you can always get a team that will strategize and implement a marketing plan that is best for your practice. Here's a checklist for you to consider in choosing a prospective a healthcare marketing agency:
Great portfolio

Positive client feedback

Competent and reliable.

Expert in market trends and competition

Expert in digital marketing

Experience in the healthcare industry

Ambitious but realistic goals

Quantified Return of Investment
Final Thoughts
But in order to achieve all of those, the first step is to go digital. If you and your staff don't have much free time on your hands, let DrCatalyst handle it for you. Our team of experts from DrCatalyst can customize different marketing strategies that are guaranteed to help you attract new patients. Of course, you'll be involved and updated every step of the way to ensure that we carry out your vision and brand voice online.
Interested? Let's set up a 15-minute meeting now!