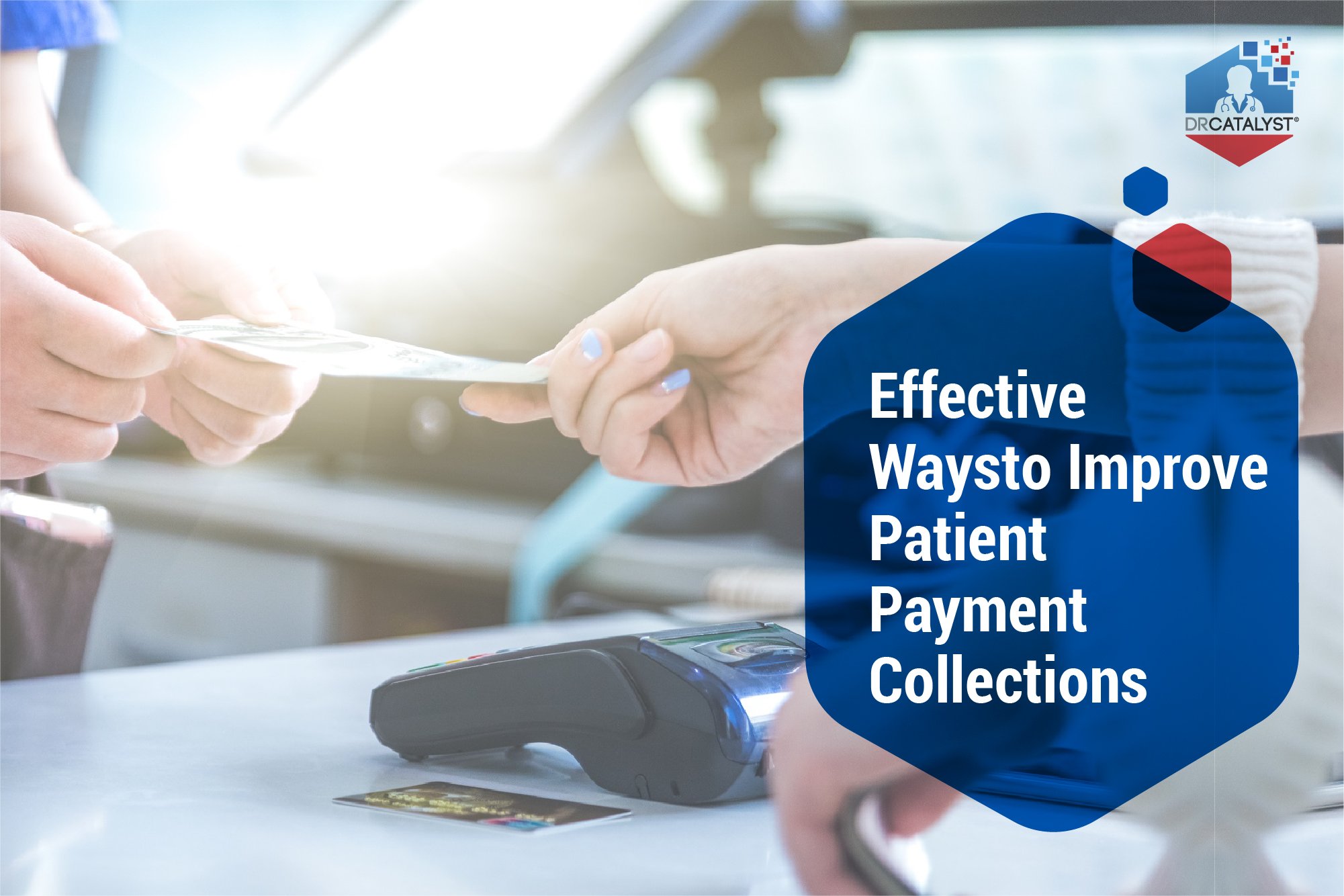 Because more patients are responsible for a higher percentage of their medical bills, patient fees contribute to a higher percentage of your profits. Providers today receive $1 of every $4 directly from patients, according to the Practice Perspectives on Patient Payments Research by MGMA. And with 30 percent of patients walking out the door before they've paid any of their bills, the collection challenge ]becomes increasingly difficult. If these patient payments are not received in a timely manner, a practice will fall seriously behind in accounts receivable. To help boost your patient payment collections and regulate your revenue cycle, we've gathered the top ten effective ways to improve your patient payment collections.
How to Improve Patient Payment Collections
Electronic payment collection portals and new medical billing software allow patients to make payments easily from home at any time of day, often resulting in faster payment collection. Online payment will also reduce the costs associated with submitting patient invoices, saving you paper, printing, and postage.
Offer monthly recurring payment for regular patients
Regular patients should be offered recurring payment plans. This will help optimize your staff's billing process and smoothen the patient experience.
Communicating operating costs
Remind patients of their current balance when scheduling appointments, and repeat this during their visit. By reminding patients of the payment before their visit, it will increase the probability that they will be prepared to pay after the appointment.
Set office billing standards
Create policies that will help your staff be more effective in the handling of billing software and determining fee submissions. Having a high standard in billing services will improve the likelihood of earlier patient payments, which can potentially enhance your cash flow.
Improve management on patient eligibility
Review each patient's insurance eligibility prior to the appointment. According to the U.S. Healthcare Efficiency Index of CAQH and Milliman, Inc., checking medical insurance coverage manually costs an average of $6.83 per verification. However, you can streamline your eligibility checking process with frequent training or outsourcing of the process. Surely, it will eliminate roadblocks for your patient payment collections and claims filing.
Ensure a timely patient payment collection
You are less to get paid once a patient leaves so you may want to collect payment at the time of service. Sending billing statements takes time and costs money. You may even fall behind your revenue cycle due to late payments, too.
Defining Financial Policy
As part of the daily check-in process, create a short document detailing your payment policy that you can share with your patients. This lets the staff of your front office explain what payment is due and answer any questions from the customer.
Offer several payment options
Patients are more likely to pay their part if you offer several modes of payment, such as cash, check and credit, debit, and health savings account cards. You may also want to invest in a card swipe reader that can be linked to your billing software for a more convenient way to process credit or debit transactions.
To help alleviate the hassles and burdens that some patients face during payment, you can provide payment plan options. For example, an installment plan that extends the payment over a couple of months may raise your chances of receiving the full payment.
Process billing regularly
Carry out your billing process at least once a week to prevent any delay in receiving payments. Choose a medical billing software that enables you to expedite time-consuming billing processes like the printing and mailing of statements. You can also opt to outsource a part of your medical billing process to get more effective management of payment collections.
Partner with DrCatalyst
Go hassle-free with your billing operations with our outstanding medical billers and coders. DrCatalyst offers end-to-end revenue cycle management services that will help your practice increase your revenue and reduce medical billing inefficiencies that hurt your cash flow. You can also get a free revenue cycle management check-up with our medical billing experts!
Schedule a free consultation today!