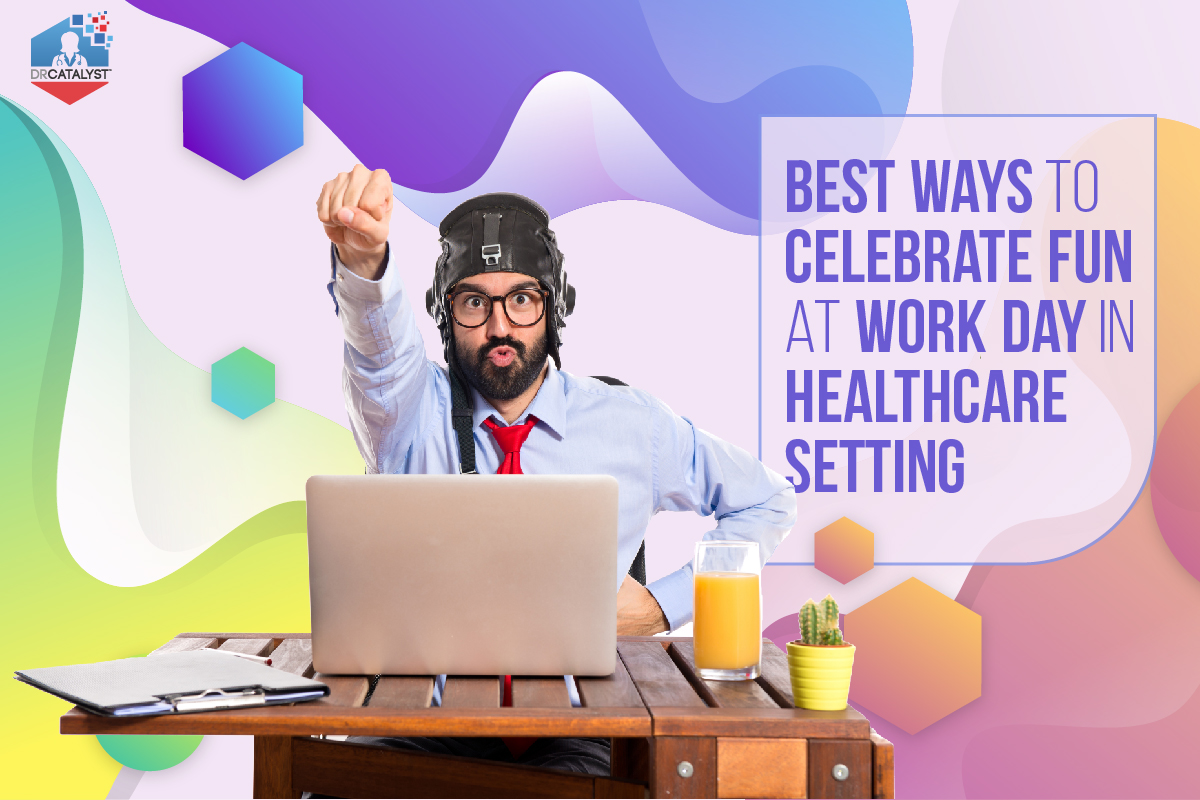 What is Fun at Workday?
Fun at Workday is an annual international celebration that falls on April 1. Coincidentally, it is celebrated together with April Fools day thus the day will be expected to be filled with practical jokes, pranks, tricks and hoaxes to your workmates. It also gives the employees the opportunity to unwind, dress up silly or participate in office-based mischief.
No matter how much you love your job, it is still a pain to wake up early when you still want to sleep in, catch up to deadlines, and facing daily traffics. That's why fun at workday was created to help boost employee morale. It also serves as a reminder that the key to a successful business is having happy employees. In connection, the American Institute of Stress states that there is an estimate of $300 billion job stress cost in the US per year from absenteeism, turnover, low productivity, and medical, legal and insurance costs. In order to lessen, employers have the responsibility to create a fun yet productive work environment for their employees.
Benefits of a Fun at Workday in Healthcare setting
Turning an ordinary day of work into a different and fun one has a lot of benefits like:
Employees can relax and get to know more their colleagues
Provides a positive and relaxed attitude that improves communication among staff members
Fun and humor creates a healthy working environment
Humor helps in reducing stress thus improving the health of your staff
Increases motivation
Gives out good vibes thus making the clinic more inviting to patients
Fun at Workday in Healthcare Setting
It might be challenging to create a fun atmosphere in a healthcare organization with employees literally handling the life and wellness of their patients but it is not impossible. With fun at workday, not only the healthcare staff can enjoy the celebration but the patients as well. Here are some ways that you can sprinkle fun in your work.
1. Decorate with a FUN theme
There's a saying that goes, "look good to feel good" so transform your clinic into a fun zone before the day. Pick a theme and get a small group of volunteers that are willing to decorate for the event. A great example would be putting up a red carpet area that will serve as a paparazzi area, or a photo booth and selfie station. Your staff will surely feel the fun in the air as soon as they step inside your clinic.
2. Dress for the fun express
Wearing all white, scrubs or your uniform all day at work can be dull, so put on masks or simple costumes in connection with your chosen theme. Your costumes can also be entertaining not only to your staff but to your patients as well. It will create a fun, and hopeful vibe in your clinic in contrast to the usual busy atmosphere. An example would be a superhero theme where your staff can pick any superhero, from DC, Marvel or to a simple Power puff girl costume that will surely lit up the faces of the people that will visit your clinic. Don't forget to provide awards and rewards for the best in costume as an incentive for participating.
3. Wall of Fame
Dedicate an entire wall filled with pictures of your staff, from the simple birthday celebrations, all the way to promotions. Use it as a collage of the highlights of the past year you've been together. This will make your staff feel recognized and valued not only as an employee but as a family too. Also, include the personal or professional triumphs as it will help them feel nostalgic and sentimental as they achieved it while working with you. You can also put on their simple portraits with the things you appreciate them the most. Fun at workday can also help you acknowledge how awesome your staff is more and more.
4. FREE Food
Who doesn't love food especially when it's free? Have a pizza party for lunch, a social gathering with something to eat never fails to break down barriers and lighten up the atmosphere at any job. Or, you can also opt to have your lunch catered with loads of free snacks throughout the day. You can also try to diversify your food selection by making your staff bring up food from their cultures or family recipes. To spice things up a little bit, you can always dine out with your staff after work and head to your local karaoke place to blow off some steam and sing your heart and work stress out all night long.
5. Bring out the music
Transform your dull gray clinic for a day into a day time disco. Change the songs from pop to jazz that would cater to the music tastes of all generations. Also, you can provide a one-hour break extension for your staff to break out their moves and present a short dance presentation. It will surely help in refreshing their minds from all the seriousness and stress that a usual workday brings.
6. Game On!
All work and no play makes anyone a dull person. So go and collaborate with your staff and prepare loads of competitive games at work for the occasion. A great example would be a simple trivia game about your work and quick facts that is related to your job. And don't forget to prepare a healthy prize that can motivate them to participate. You can also incorporate a treasure hunt with your trivia games, may it be about pop culture or work, with the treasure as a hefty grand prize that will boost up their competitiveness. Prizes are a great fun motivator so don't forget to prepare it. Anyways, a little friendly and healthy competition is never a bad thing, it's amazing how it can immediately lighten up the mood.
7. Team building activities
You don't have to stay in your office to celebrate the occasion. You can always treat it as a holiday to celebrate with your staff outside your clinic. Hire a coordinator that will help formulate team building activities that will help in building trust with coworkers, increases collaboration, encourages healthy communication, brings out creativity and most importantly, it helps in mitigating tension and conflict.
Final Thoughts
Fun and work can actually go together. Don't limit fun at workday as a once-a-year occasion, try to incorporate it little by little every day. In conclusion, keeping a fun spirit can improve effort and excellence in the performance of your staff as a whole. Have great fun at workday!