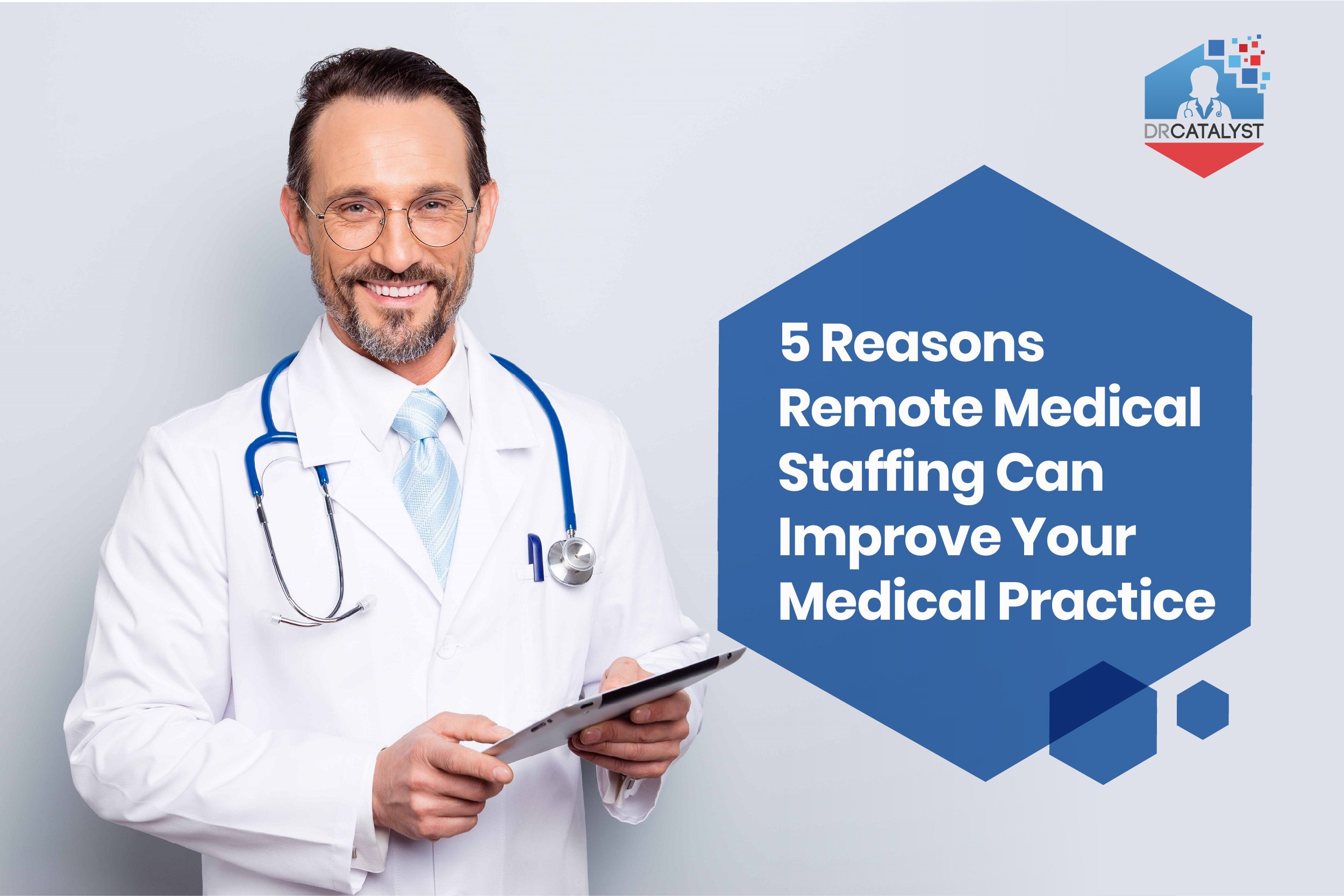 Overview
Remote medical staffing has been increasingly popular, especially with the looming global pandemic. COVID-19 brought a permanent shift in consumer behavior and patient behavior as well. It paved the wave for the rise of Telemedicine, Telehealth Options, and it includes remote medical staffing too. We'll be talking about how having a remote medical staff can benefit your practice.
1. Increases your Productivity
Remote Medical Staffing can significantly increase your overall productivity. With the insurgence of patients due to COVID-19 and demand for telehealth options, your staff should give their utmost attention to your visiting patients. Utilizing remote workers also provides a lesser rate of mistakes and errors in their corresponding field of tasks. Remote medical staff undergoes heavy training in administrative, clinical, or billing to be experts in the area. You will have peace of mind that your remote staff will be focusing on their work. It increases your onsite staff's capacity to provide a higher quality degree of service to your patients. It lowers your stress due to more finished work and paperwork being submitted on time. Hiring an onsite staff means investing more time to train them and supervise them until they get familiar with their work, which means more work for your staff. However, remote medical staffs require lesser supervision and training due to their experiences and training that they have taken beforehand.
2. Happier Patients
Remote Medical staffing increases the patient experience, thus making more and more of your patients happier. For example, proper remote phone assistance can give them the right sense of pampering due to the staff's phone etiquette and tone of voice in answering their inquiries. They build the trust and confidence between your practice and your patients by adequately attending to their needs and concerns that help removes their anger and confusion that they might have on whatever issue.Besides, a specific remote team for your prior authorizations can help speed up the process and efficiency of your patient care and services delivery too. You will also notice a faster and efficient operation in your medical billing with remote billers. They will be able to help your patients more about their medical insurance providers. You can finally welcome happier patients and less stress in your work.
More patient engagement also encourages them to achieve their own healthcare goals. It helps in maintaining their scheduled appointments, needed tests, and care schedules. Your patient engagement can also influence healthier lifestyle changes that can improve their overall health.It also provides security and convenience to your patients, knowing that their healthcare providers are fully available and focused on their care and concerns. It gives a sense of confidence and trust that they can freely reach out to you with questions, reports on symptoms, and make their follow-ups on treatments.
3. Cost-Saving
Remote staffing for phone assistance, analysis, monitoring, and EHR entry can significantly reduce healthcare services costs that it saves money for you, your patients, and insurance companies. It cuts down the rate of unnecessary non-urgent emergency room visits due to the around-the-clock certified remote medical staff assisting them in their health concerns. It helps your patients save transportation expenses for regular or follow-up on their health and tests via telehealth or telemedicine. Getting a remote medical biller can increase your revenue too. Experienced and highly-trained remote medical billers are more adept at medical billing, from processing prior authorizations to filing claims. You will surely notice a significant jump on your revenue rate by partnering with remote billing experts, for they leave no room for medical billing errors and mistakes. Remote admin and clinic staff can also lessen the administrative expenses intended for equipment maintenance, use, and training. It will redirect the saved costs to the funds meant for patient care, more medical equipment or more
4. Best Protection against Physician Burnout
Remote staffing can help you optimize your current onsite staff. With lesser work for onsite workers, they will be able to attend to your visiting patients without getting stressed and distracted from the piling amount of administrative tasks. There will be fewer backlogs since all of your tedious administrative, and clinical paperwork is well taken care of.
Healthcare practices can save more time by hiring remote medical staff. They won't have to spend more time in training and supervising new onsite employees. Their partnered remote medical agency will be the one to do such training on administrative duties or management tasks that will fit the requirement and needs of the practice.
5. Better Patient Care Quality
Remote Medical Staffing can improve your timeliness of patient care. Small or big practices shouldn't overburden their onsite staff with more and more administrative tasks. They should be able to focus on giving the best quality healthcare services to your patients. Your sales, marketing, administrative, clinical paperwork, analytics, billing, and business development team of the practice should focus on revenue generation and revenue cycle management. They are also the tasks that you can leave to your remote medical staff. In return, your onsite staff can focus on and improve their performances in inpatient care. Healthcare specialists will no longer have to deal with administrative tasks. There will be more room for them to offer their full attention and concentrate on dealing with your patients. They will be able to address your inpatient's needs that help improve their conditions faster. Remote medical staffing will transform your practice to adopt more patient-centric approaches. Patients can call your clinic with their concerns and healthcare issues and get addressed immediately. They can avail of urgent consultations, evaluate their conditions, and other treatment options so they will be guided on what further actions they could take.
What's the Best Remote Medical Staffing Agency?
DrCatalyst is the best remote medical staffing agency. It is the right partner for any and every practice thereof. It helps practices focus less on operations and more inpatient care. Our remote medical staffs are experts on operational, administrative, clinical, marketing, CCM services down to diminishing billing errors leading to healthier revenue and higher ROI. Schedule a free consultation with us today!